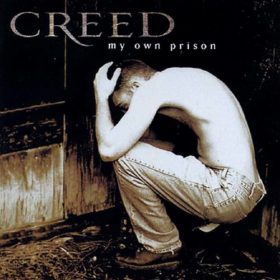 Creed – My Own Prison (1997)
Tracks
Description
Artist
To listen to a song, click the "Play" button.
Torn
Ode
My Own Prison
Pity for a Dime
In America
Illusion
Unforgiven
Sister
What's This Life For
One
My Own Prison is the debut studio album by American rock band Creed, released on August 26, 1997. It has been certified six times platinum and is one of the top 200 selling albums of all time in the United States. The person kneeling on the album's cover is Justin Brown, a friend of the band. The picture was taken by guitarist Mark Tremonti's brother, Daniel, for a photography class. It has spent over 150 weeks on the catalog albums chart and over 110 weeks on the Billboard 200. The album received generally positive reviews from critics. The album had five music videos created for it: "My Own Prison" in 1997, followed by "Torn" and three versions of "What's This Life For" in 1998.
Creed was an American rock band formed in 1993 in Tallahassee, Florida. The band's best-known line-up consists of lead vocalist Scott Stapp, guitarist and vocalist Mark Tremonti, bassist Brian Marshall, and drummer Scott Phillips. Creed more...
Genres: International Rock, Post-Grunge
Also download other albums from Creed