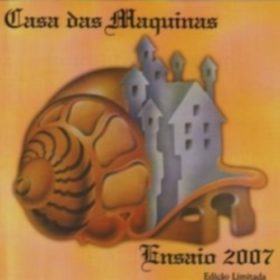 Casa Das Máquinas – Ensaio (2007)
Tracks
Description
Artist
To listen to a song, click the "Play" button.
Vale Verde
Dr. Medo
Lar De Maravilhas
Casa De Rock
Pra Cabeça
Vou Morar No Ar
Ensaio 2007 is a demo album by Brazilian band Casa das Máquinas. This album was born from an essay in 2007 that marked the return of the band Casa das Máquinas. They contain some of the band's biggest hits as time goes by. The record brings you with a heavier twist given by Faísca's guitars. The disc had a limited edition in 500 copies, made for sale in the festival Psicodália in February of 2008.
Casa das Máquinas is a Brazilian rock band, formed in the 1970s. The band was formed by Luiz Franco Thomaz, known as Netinho (baterista), member of the Os Incríveis who were looking for a sound that was less commercial and more up-to-date for more...
Genres: Brazilian Rock, Progressive Rock, Psychedelic Rock