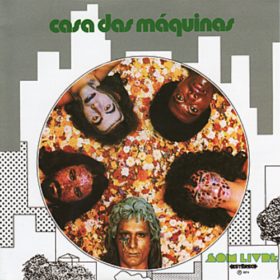 Casa Das Máquinas – Casa das Máquinas (1974)
Tracks
Description
Artist
To listen to a song, click the "Play" button.
A Natureza
Tudo Porque Eu Te Amo
Mundo de Paz
Quero Que Você Me Diga
Canto Livre
Trem da verdade
Preciso lhe ouvir
Cantem esse som com a gente
Domingo à Tarde
Sanduíche de queijo
Casa das Máquinas was the first studio album by the Brazilian band Casa das Máquinas, released in 1974 by the record company Som Livre. It was reissued on CD in 2006 as part of the Som Livre Masters box.
Casa das Máquinas is a Brazilian rock band, formed in the 1970s. The band was formed by Luiz Franco Thomaz, known as Netinho (baterista), member of the Os Incríveis who were looking for a sound that was less commercial and more up-to-date for more...
Genres: Brazilian Rock, Progressive Rock, Psychedelic Rock