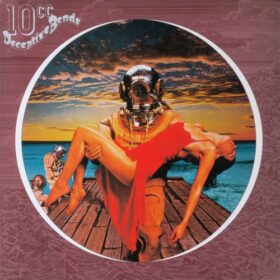 10cc – Deceptive Bends (1978)
Tracks
10cc - Good Morning Judge
Other videos of this song:

10cc - Good Morning Judge

Good Morning Judge - 10cc Live In Concert 1977

10cc - Good morning judge

10cc - Good Morning Judge

10CC - Good Morning Judge @ Lillestrom.Norway 16th of June 2016
2
The Things We Do For Love
3
Marriage Bureau Rendezvous
7
I Bought A Flat Guitar Tutor
About the Album
Deceptive Bends is the fifth studio album by rock band 10cc, released in 1977. The cover design was provided by Hipgnosis. The title of the album was taken from a sign warning of dangerous curves in the southbound A24 between Leatherhead and Dorking in Surrey; the sign is no longer there.
The band started recording sessions for the fifth album in late summer of 1976 with the song "People in Love", at that time referred to as "Voodoo Boogie". But with the tensions in the band rising the track was considered "awful"when assembled, and Kevin Godley and Lol Creme decided to temporarily split with Eric Stewart and Graham Gouldman to start work on what would later become their debut project Consequences. As their work progressed Godley and Creme decided to leave the group.
Stewart and Gouldman decided to try recording "Good Morning Judge", which debuted live at the Knebworth Festival on 21 August 1976 with the original line-up, and later "The Things We Do For Love". Satisfied with the results they continued to run the band with the assistance of drummer Paul Burgess who already worked with 10cc acting as second drummer to Kevin Godley on tour.
Stewart recalled: "I had a big challenge ahead of me to prove to the record world that we were not just 5cc, as some of the British media had graciously called us. The music was simpler than some of the previous 10cc albums, it was far more direct, streamlined and positive. The whole album was recorded very (in our terms) quickly. I was on a mission, and flying higher and faster than I had ever been before, and I knew by then that we had a very strong album. The new songs played a big part in the equation of course, I was out to prove also that we could write a hit album without Kevin and Lol… we did!"
Genres: Art Rock, International Rock, Progressive Rock
Other 10cc discography albums for download