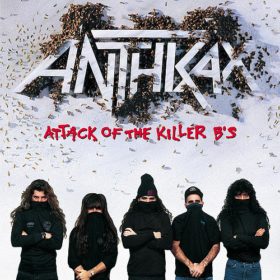 Anthrax – Attack of the Killer B's (1991)
Músicas
Anthrax - Milk (Ode to Billy)
Outros vídeos dessa música:

Milk (Ode To Billy)

Mix - Anthrax - Milk (Ode to Billy)

Anthrax-Milk

S.O.D. - Milk (1985)

Startin' Up A Posse
Sobre o Álbum
Attack of the Killer B's é uma compilação de B-Sides da banda Anthrax, lançado em 1991 pela Island Records e contou com a produção da própria banda. No álbum é incluida a faixa "Bring the Noise", que contém a participação do Public Enemy, gerando talvez o embrião do rap metal. Contém covers do S.O.D., Discharge, Kiss e do Trust. Também é incluído faixas ao vivo da última turnê da banda (do Persistence of Time).
Gêneros: Rock Internacional, Thrash Metal
Outros álbuns da discografia de Anthrax para download