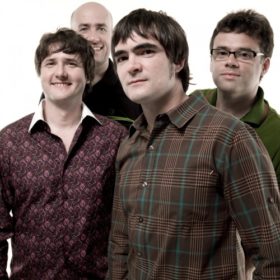 Skank
Skank is a Brazilian band from Belo Horizonte. Having begun in 1991, they sold approximately 5,200,000 copies of their albums as of 2004. Initially intending to mix dancehall with traditional Brazilian styles, later the band changed its sonority to
more...
Skank is a Brazilian band from Belo Horizonte. Having begun in 1991, they sold approximately 5,200,000 copies of their albums as of 2004. Initially intending to mix dancehall with traditional Brazilian styles, later the band changed its sonority to music closer to Britpop and local movement Clube da Esquina.
In 1983, Samuel Rosa (guitars, vocals) and Henrique Portugal (keyboards) started to play in a reggae band called "Pouso Alto", along with Dinho Mourão (drums) and his brother Alexandre (bass). In 1991, Pouso Alto arranged for a performance in São Paulo, but due to the Mourão brothers not being in Belo Horizonte, bassist Lelo Zaneti and drummer Haroldo Ferretti were called for the gig. The band premiered on June 5, 1991, and due to the performance competing with the Campeonato Paulista final match, the audience was 37 people. After the show, the group changed its name to Skank, inspired by Bob Marley's song "Easy skanking", and began to perform regularly at "Mister Beef" churrascaria in Belo Horizonte.
After playing for some time in churrascarias, bars and clubhouses, the band spent US$10,000 in their first album, Skank, released as an independent CD in late 1992 with 3,000 copies, fully paid by the band members themselves. In 45 days, 1,200 were sold, and Sony Music signed the band as the first Brazilian act in its Chaos label. Skank was re-released in April 1993. The singles "O Homem Que Sabia Demais", "Tanto" (version of Bob Dylan's "I Want You") and "In(Dig)Nação" took the group on a 120 concerts tour around Brazil, and the album sold 250 thousand copies.
Calango (1994) was the first record produced by Dudu Marote. "É Proibido Fumar", "Te Ver", "Pacato Cidadão", "Esmola" and "Jackie Tequila" were hits, and Calango sold around 1,200,000 copies.
Skank discography for download