Raimundos Discography Download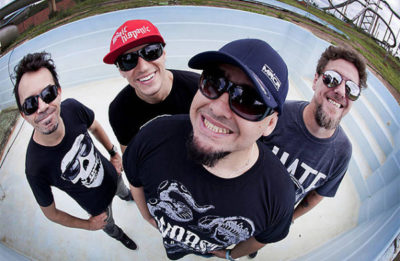 Raimundos is a Brazilian punk/hardcore band. They have major influences of 1980s punk bands, especially Ramones. The band was formed in Brasília, Distrito Federal, in 1987 by Digão and Rodolfo Abrantes. The vocalist Derrick Green of Sepultura participated on their CD Kavookavala and João Gordo of Ratos de Porão participated on their first album Raimundos (1994) providing backing vocals on the song MM's. The name of the band refers to one of its biggest influences, Ramones, being also one of the most common male first names in Brazilian northeast region.
In 1994, they released their first album entitled just like Raimundos, Toothless the seal of the Titans. The album was well accepted, selling more than 150,000 copies. The heavy sound, with lyrics full of profanity and strong northeastern influences, caught the attention of the media and the public, with songs like "Puteiro em João Pessoa", "Nega Jurema" and "Marujo". But the album's biggest success was the porn-erotic "Selim", which boosted sales of the record and made the band known throughout the country. The album was extremely important for the Brazilian music scene, due to the innovative sound (titled "forró-core") and to the fact that it was one of those responsible for the "opening of doors" for the rock of the 90s, influencing practically all the bands that would form later.
Albums: