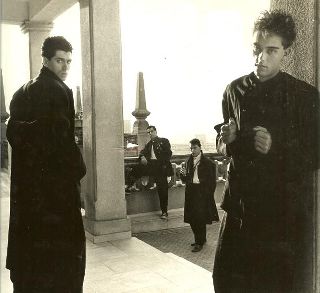 Heróis da Resistência
Heróis da Resistência was a Brazilian rock band formed by Leoni (vocals and bass), Jorge Shy (guitar), Lulu Martin (keyboards) and Alfredo Dias Gomes (drums) in Rio de Janeiro in 1986. After their tumultuous departure from the group Kid Abelha, of which he was bassist and the main composer, Leoni founded the group, with which he released three LPs, all by the WEA.
A second lineup of the band, with Pablo Uranga (guitar) and Edmardo Galli (Hanoi-Hanoi) (drums), recorded the third CD of the band Heróis 3, with hits like "O que Eu Sempre Quis" and "Diga Não".
The group closed the activities in 1993, when the vocalista and the bassist Leoni leaves for the solo career. The biggest successes of the band were the songs "Dublê de Corpo", "Esse Outro Mundo", "Só Pro Meu Prazer", "Nosferatu", "O que Eu Sempre Quis" and "Diga Não".
Download Albums