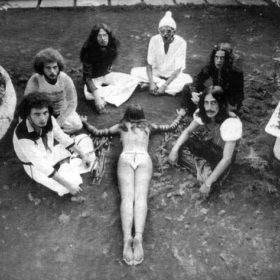 Ave Sangria
Ave Sangria is a Brazilian rural rock band founded by Almir de Oliveira, one of the main exponents of the psychedelic music scene of the 1970s, together with Zé Ramalho, Marconi Notaro and Lailson. He was also important for his irreverence and
more...
Ave Sangria is a Brazilian rural rock band founded by Almir de Oliveira, one of the main exponents of the psychedelic music scene of the 1970s, together with Zé Ramalho, Marconi Notaro and Lailson. He was also important for his irreverence and musicality ahead of his time.
It was initially formed by Almir de Oliveira (bass), Marco Polo (vocals), Ivson Wanderley (guitar solo and guitar), Paulo Raphael (guitar, synthesizer, guitar, vocal), Israel Seed percussion). In that era of counterculture, Drugstore Beco do Barato, a bar located in the center of Recife, formerly the TPN (Teatro Popular do Nordeste), was the perfect setting for a youth who discovered and challenged the political power and the current morality. They were baptized of Udigrudi.
Initially called Tamarineira Village, the group changed its name at the suggestion of the members, for having to be explained the reason for the name in all the presentations of the band.
Even after the end of Ave Sangria, and there goes 30 years, Almir never left the music aside. Now, in his new project, he has the company of his wife Niedja on vocals, the grandson Caio César, percussionist, as well as other musicians. The compositions follow the line of rock 'n' roll, addiction that he does not abandon. But Almir also flirts with rhythms like bolero, chorinho and maracatu (mix, incidentally, already present in his old band). The irreverence of the lyrics and the daring of youth remain. It is no wonder that his new work, titled "Who does not know Lolita, does not know Recife", tells the story of a transvestite that scandalized the city in the 50s / 60s.
Ave Sangria discography for download