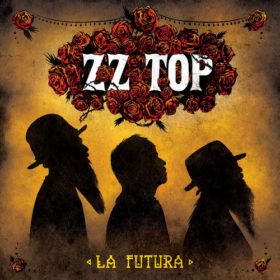 ZZ Top – La Futura (2012)
Tracks
Description
Artist
To listen to a song, click the "Play" button.
I Gotsta Get Paid
Chartreuse
Consumption
Over You
Heartache In Blue
I Don't Wanna Lose, Lose, You
Flyin' High
It's Too Easy Mañana
Big Shiny Nine
Have A Little Mercy
La Futura is the fifteenth studio album by the American rock band ZZ Top, released in September 2012. It is their first one in nine years, following Mescalero. La Futura was recorded at The Foambox Recordings in Houston, Texas. The album title and album art were released on ZZ Top's homepage on 3 August 2012 at 11:45 a.m. The album contains 10 tracks. "We thought long and hard about what this album should be,"Gibbons said in a press release. "We wanted to recall the directness of our early stuff but not turn our backs on contemporary technology. The result of this melting of the past and the present is, of course, La Futura."
Four of the new tracks–"I Gotsta Get Paid", "Chartreuse", "Consumption"and "Over You"–were first released on 5 June 2012 as an iTunes-only collection titled Texicali, which met with strong sales and glowing reviews. Music Radar summed up the tunes as "fresh, vital roadhouse blues." Another track, "Flyin' High", appropriately made its world premiere in space, when the then-unfinished song was played on board a Soyuz spacecraft during its launch to the International Space Station in June 2011 at the request of the NASA astronaut Mike Fossum, a long-time ZZ Top fan and friend. Two bonus tracks, entitled "Threshold of a Breakdown"and "Drive-By Lover"were released on CDs sold exclusively at Best Buy stores.
ZZ Top is an American rock trio formed in 1969 in Houston, Texas. The band has, since 1970, consisted of vocalist/guitarist Billy Gibbons (the band's leader, main lyricist and musical arranger), bassist/vocalist Dusty Hill, and drummer Frank Beard. more...
Genres: Blues Rock, Hard Rock, International Rock
Also download other albums from ZZ Top