Theatre Of Tragedy – Forever Is the World (2009)
Tracks
Theatre Of Tragedy Hide And Seek With Lyrics
Other videos of this song:

Theatre of Tragedy - Hide And Seek

Hide and Seek

Hide and Seek (live) - Theater of Tragedy

Mix - Theatre Of Tragedy Hide And Seek With Lyrics

Hide and Seek
About the Album
Forever Is the World is the seventh and final studio album by the Norwegian gothic metal band Theatre of Tragedy. It was released on 18 September 2009, on AFM Records. The album was produced by the Zeromancer singer Alexander Møklebust and mastered by Bjørn Engelmann.
The cover art was designed by Thomas Ewerhard, who made the covers for the previous two albums by the band, Storm and Assembly. When the cover art was revealed on the band's website, they said that it had been designed to incorporate elements from the covers of all of their previous studio albums as a challenge to their most diehard fans.
Since the release of the record there have been complaints about the mixing and mastering of the album with claims of fuzzing and clipping. The album has been linked by fans to the Loudness War.
Genres: Gothic Metal, International Rock
About the Artist/Band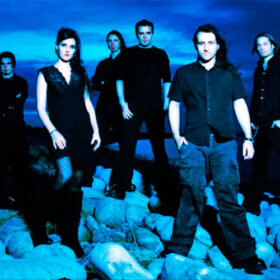 Theatre of Tragedy was a Norwegian band from Stavanger, active between 1993 and 2010. They are best known for their earlier albums, which influenced the gothic metal genre. Theatre of Tragedy was founded on 2 October 1993 by vocalist Raymond more...
Other Theatre Of Tragedy discography albums for download