Theatre Of Tragedy – Aégis (1998)
Tracks
Theatre of Tragedy - Cassandra
Other videos of this song:

Theatre of Tragedy - Cassandra (Live at Metalmania Fest. 2000, Katowice, Poland)

Cassandra

Theatre of Tragedy - Cassandra & Der Tanz Der Schatten live Kraków (2000) ᴴᴰ

Theatre of Tragedy - Aegis - 1998 Full Album

Theatre Of Tragedy - Cassandra Lyrics
About the Album
Aégis is the third studio album by Norwegian gothic metal band Theatre of Tragedy, and the last album of their musical period defined by gothic stylings and Early Modern English lyrics.
As with Theatre of Tragedy's previous albums, the lyrics are written in Early Modern English (except "Venus", in Latin) which sounds very different from modern English: Vaunt! – Devil tyne – Wadst thou wane fore'ermae? (from the song "Angélique"). The subject matter is drawn from a range of European folklore and history: Venus and Poppæa are from Roman sources; Aœde, Cassandra, Bacchante and Siren are drawn from Greek mythology; while Lorelei refers to a Nix from German stories, and Angélique is inspired by medieval poem Orlando Furioso.
Genres: Doom Metal, Gothic Metal, International Rock
About the Artist/Band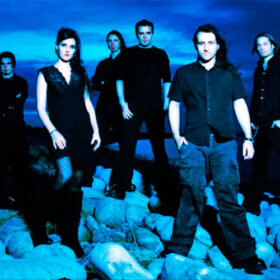 Theatre of Tragedy was a Norwegian band from Stavanger, active between 1993 and 2010. They are best known for their earlier albums, which influenced the gothic metal genre. Theatre of Tragedy was founded on 2 October 1993 by vocalist Raymond more...
Other Theatre Of Tragedy discography albums for download