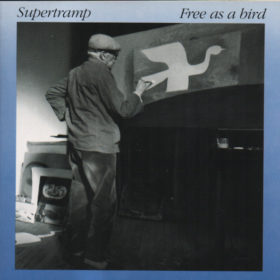 Supertramp – Free As A Bird (1987)
Tracks
Description
Artist
To listen to a song, click the "Play" button.
It's Alright
Not The Moment
It Doesn't Matter
Where I Stand
Free As A Bird
I'm Beggin' You
You Never Can Tell With Friends
Thing For You
An Awful Thing To Waste
Free As A Bird is the ninth studio album by the English rock band Supertramp, released in 1987. The album was a turn of direction of sorts, with most of the songs stepping back from their progressive rock sound, employing synthesised dance beats and rhythms. Chief songwriter Rick Davies later recalled, "Free As A Bird was an experiment to try and be modern and build it up with computers and drum machines and have people come in one by one, which makes you lose the band spirit a little bit."
he album was the first Supertramp album to feature contributions from guitarist/vocalist Mark Hart. He would later become a full-fledged member of the group.
Despite the fact that "I'm Beggin' You" was a club chart-topping hit and Free As A Bird's title cut was a minor hit, the album did not do well peaking at No. 101, making it the first Supertramp album since 1971's Indelibly Stamped not to crack Billboard's Top 100 on the album charts.
The band disbanded after the tour in support of the album and would not reconvene until 1997. They did so without bassist Dougie Thomson.
Originally, the vinyl album featured four colour variants – blue (pictured), green, yellow and pink. The bird in the picture was a cut-out.
A remastered CD version of the album was released on 30 July 2002 on A&M Records. The remastered CD comes with all of the original album artwork, lyrics and credits.
Supertramp (known as Daddy in 1969–1970) are an English rock band formed in London in 1969. Though their music was initially categorised as progressive rock, they later incorporated a combination of traditional rock, pop and art rock into their more...
Genres: International Rock, Progressive Rock
Also download other albums from Supertramp