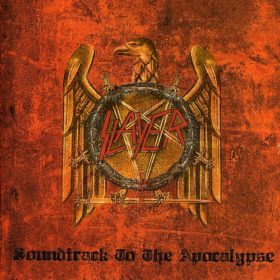 Slayer – Soundtrack to the Apocalypse (2003)
Tracks
Description
Artist
To listen to a song, click the "Play" button.
Angel of Death
Criminally Insane
Postmortem
Raining Blood
Aggressive Perfector
South Of Heaven
Silent Scream
Live Undead
Mandatory Suicide
Spill The Blood
War Ensemble
Dead Skin Mask
Hallowed Point
Born Of Fire
Seasons In The Abyss
Hell Awaits
The Anti-Christ
Chemical Warfare
Sex. Murder. Art.
Dittohead
Divine Intervention
Serenity In Murder
213
Can't Stand You
Ddamm
Gemini
Bitter Peace
Death's Head
Stain Of Mind
Disciple
God Send Death
New Faith
In-A-Gadda-Da-Vida
Disorder (feat. Ice-T)
Memories Of Tomorrow
Human Disease
Unguarded Instinct
Wicked
Addict
Scarstruck
Ice Titan
The Anti-Christ
Fight Till Death
Necrophiliac
Piece By Piece
Raining Blood
Angel of Death
Raining Blood
South Of Heaven
Seasons In The Abyss
Mandatory Suicide
Mind Control
No Remorse (I Wanna Die)
Dittohead
Sex. Murder. Art.
Bloodline
Payback / KPFT Interview
Soundtrack to the Apocalypse is a box set by the American thrash metal band Slayer. Released November 25, 2003 through American Recordings, the four–disc CD and DVD set features music from previous albums, unreleased material, and live film. A deluxe edition version (which has the alias "ammo box") was released and featured everything from the standard edition, with the addition of 14 live tracks. The box set's name originated from an alternative title for 2001's God Hates Us All. After discussing among themselves the idea of the box set, the band informed their record company, who initially disliked but later approved the idea.
Many dates were stated by band members as to when it would be released. The official release date was not announced until late October 2003. The box set has been released into the public domain five times between late 2003 to early 2007. There were several producers and film directors that were involved with the box set. The set received positive reviews from critics, but was not well received by fans, with the set debuting on no notable charts.
Slayer is an American thrash metal band from Huntington Park, California. The band was formed in 1981 by vocalist/bassist Tom Araya and guitarists Kerry King and Jeff Hanneman. Slayer's fast and aggressive musical style made them one of the founding more...
Genres: International Rock, Thrash Metal
Also download other albums from Slayer