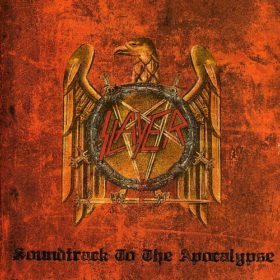 Slayer – Soundtrack to the Apocalypse (2003)
Para escutar uma música, clique no botão "Play".
Angel of Death
Criminally Insane
Postmortem
Raining Blood
Aggressive Perfector
South Of Heaven
Silent Scream
Live Undead
Mandatory Suicide
Spill The Blood
War Ensemble
Dead Skin Mask
Hallowed Point
Born Of Fire
Seasons In The Abyss
Hell Awaits
The Anti-Christ
Chemical Warfare
Sex. Murder. Art.
Dittohead
Divine Intervention
Serenity In Murder
213
Can't Stand You
Ddamm
Gemini
Bitter Peace
Death's Head
Stain Of Mind
Disciple
God Send Death
New Faith
In-A-Gadda-Da-Vida
Disorder (feat. Ice-T)
Memories Of Tomorrow
Human Disease
Unguarded Instinct
Wicked
Addict
Scarstruck
Ice Titan
The Anti-Christ
Fight Till Death
Necrophiliac
Piece By Piece
Raining Blood
Angel of Death
Raining Blood
South Of Heaven
Seasons In The Abyss
Mandatory Suicide
Mind Control
No Remorse (I Wanna Die)
Dittohead
Sex. Murder. Art.
Bloodline
Payback / KPFT Interview
Soundtrack to the Apocalypse é um box da banda Slayer, lançado a 25 de Novembro de 2003. Contém três CDs mais um DVD (edição simples) ou quatro CDs mais um DVD (edição de luxo). A edição de luxo também inclui um banner de parede, uma identificação para bastidores plastificada, e um livreto de 60 páginas que abrange a história da banda.
Slayer é uma banda estadunidense de thrash metal proveniente de Huntington Park, Califórnia, formada em 1981. A banda foi fundada pelos guitarristas Jeff Hanneman e Kerry King. Slayer entrou na fama a partir de 1986, com o mais...
Gêneros: Rock Internacional, Thrash Metal
Baixe também outros álbuns de Slayer