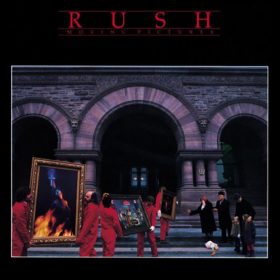 Rush – Moving Pictures (1981)
Tracks
Description
Artist
To listen to a song, click the "Play" button.
Tom Sawyer
Red Barchetta
YYZ
Limelight
The Camera Eye
Witch Hunt (Part III of Fear)
Vital Signs
Moving Pictures is the eighth studio album by the Canadian rock band Rush, released on February 12, 1981 on Anthem Records. After touring to support their previous album, Permanent Waves (1980), the band started to write and record new material in August 1980 with co-producer Terry Brown. They continued to write songs with a more radio friendly format, featuring tighter song structures and songs of shorter length compared to their early albums.
Moving Pictures received a positive reception from current and retrospective music critics and became an instant commercial success, reaching number one in Canada and number 3 in the United States and the United Kingdom. It remains Rush's highest selling album in the United States after it was certified quadruple-platinum by the Recording Industry Association of America (RIAA) for over 4 million copies sold. "Limelight", "Tom Sawyer" and "Vital Signs" were released as singles across 1981, and the instrumental "YYZ" was nominated for a Grammy Award for Best Rock Instrumental Performance. Rush supported the album with a concert tour from September 1980 to July 1981.
Rush was a Canadian rock band composed of Geddy Lee (bass, vocals, keyboards), Alex Lifeson (guitars) and Neil Peart (drums, percussion, lyrics). Forming in 1968, the band went through several configurations until arriving at its longest and most more...
Genres: International Rock, Progressive Rock
Also download other albums from Rush