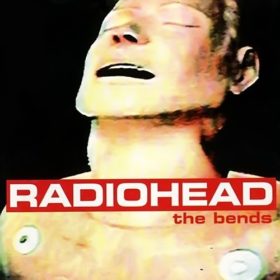 Radiohead – The Bends (1995)
Tracks
Other videos of this song:

Radiohead - Planet Telex - Live HD

Radiohead - The Bends (1995)

Radiohead/The Bends - 01 Planet Telex

The Bends+Planet Telex

Radiohead - Planet Telex (1997 Belfort)
8
Bullet proof...I wish..
About the Album
The Bends is the second studio album by the English rock band Radiohead, released on 13 March 1995 by Parlophone in the United Kingdom and Capitol Records in the United States. It was produced by John Leckie, and engineered by Nigel Godrich, who went on to produce all of future Radiohead's releases. It was the first Radiohead album with cover art by Stanley Donwood, who, with singer Thom Yorke, has produced all of Radiohead's artwork since.
The Bends moved away from the grunge-influenced style of Radiohead's debut album Pablo Honey (1993), incorporating cryptic lyrics, greater use of keyboards, and more abrasive guitar tracks. It produced five charting singles: "My Iron Lung" (released as an EP in 1994), "High and Dry", "Fake Plastic Trees", "Just", and "Street Spirit (Fade Out)", the latter of which became Radiohead's first top-five UK single.
The Bends reached #4 on the UK Albums Chart. However, it failed to build on the success of their single "Creep" outside the United Kingdom, and peaked on the United States charts at #88. It achieved triple platinum certifications in the UK and Canada and platinum in the United States and Europe. The Bends received greater acclaim than Pablo Honey. In the years since its release, it has frequently appeared in listener polls and critics' lists of the greatest albums of all time.
Genres: Alternative Rock, International Rock
Other Radiohead discography albums for download