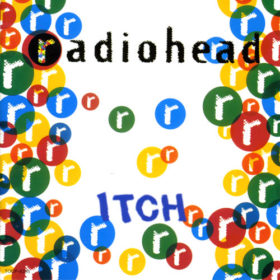 Radiohead – Itch EP (1994)
Tracks
Stop Whispering (US Version) - Radiohead
Other videos of this song:

1 - Stop Whispering (U.S Version) - Radiohead

Mix - Stop Whispering (US Version) - Radiohead

Stop Whispering

Radiohead - Stop Whispering

1 - Stop Whispering (U.S Version) - Radiohead
1
Stop Whispering (US Version)
3
Faithless,The Wonder Boy
About the Album
Itch is the second extended play (EP) by English alternative rock group Radiohead, released exclusively in Japan on 1 June 1994 by EMI.
Although the EP presented no new material, it does contain the US version of "Stop Whispering", which was remixed by Chris Sheldon. It features strings and has a slower tempo. This version of the song had previously been available on the "Stop Whispering" single released in 1993. The EP's second track, "Thinking About You", a faster and more punk-driven version than the one on the band's first album Pablo Honey, also appeared on the Drill EP.
"Faithless, the Wonder Boy" was first released as a B-side on the 1993 single "Anyone Can Play Guitar". The version of "Banana Co." present on this EP is acoustic, which could also be found on the 1993 single "Pop Is Dead", and is not to be confused with the studio version of the song which was released on the "Street Spirit (Fade Out)" CD2 single two years later in 1996. This recording was made at Signal One radio station (formerly 'Signal Radio').
The live versions of "Killer Cars", "You", and "Vegetable" had been previously released only on the extremely rare "Creep" reissue 12″ vinyl. The three songs were recorded at the Metro in Chicago on 30 June 1993. The final track, "Creep (Acoustic)", is also present on the My Iron Lung EP, and was recorded at KROQ-FM studios, Los Angeles, on 13 July 1993.
Genres: Alternative Rock, International Rock
Other Radiohead discography albums for download