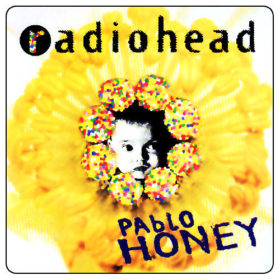 Radiohead – Pablo Honey (1993)
Tracks
Other videos of this song:

Radiohead - You (Acoustic MTV Studios)

Radiohead YOU live 1994

Radiohead - You (with lyrics) 1994

You (Drill Version)

Radiohead - You (Acoustic Cover)
About the Album
Pablo Honey is the debut studio album by English rock band Radiohead. It was released on 22 February 1993 in the United Kingdom by Parlophone and in the United States by Capitol Records. It was primarily produced by Sean Slade and Paul Q. Kolderie and recorded at Chipping Norton Recording Studios in Oxfordshire from September to November 1992. The album's title comes from a Jerky Boys prank call skit in which the prank caller says to his victim, "Pablo, honey? Please come to Florida!"
Pablo Honey peaked at number 22 on the UK Albums Chart, and received generally favourable reception from critics, but some criticized its grunge sound as derivative and found certain songs underdeveloped. The album is often held in a negative light in comparison to the band's subsequent studio albums, although some retrospective reviews have been positive. Pablo Honey produced three charting singles – "Anyone Can Play Guitar", "Stop Whispering", and perhaps the band's most well-known hit on mainstream radio, "Creep" – and was certified platinum in the United Kingdom and other countries.
Genres: Alternative Rock, International Rock
Other Radiohead discography albums for download