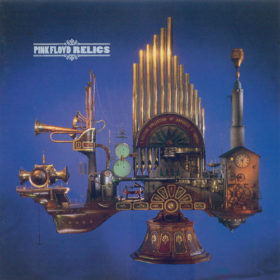 Pink Floyd – Relics (1971)
Tracks
Description
Artist
To listen to a song, click the "Play" button.
Arnold Layne
Interstellar Overdrive
See Emily Play
Remember a Day
Paintbox
Julia Dream
Careful With That Axe, Eugene
Cirrus Minor
The Nile Song
Biding My Time
Bike
Relics (subtitle: A Bizarre Collection of Antiques & Curios) is a 1971 compilation album by Pink Floyd. The album was released in the UK on 14 May 1971 and in the United States on the following day. Initially released by Starline, the compilation was reissued by Music for Pleasure in the United Kingdom; Harvest and Capitol distributed the album in the United States. A remastered CD was released in 1996 with a different album cover, picturing a three-dimensional model based on the sketch drawn by drummer Nick Mason for the initial release.
Pink Floyd were an English rock band formed in London in 1965. They achieved international acclaim with their progressive and psychedelic music. Distinguished by their use of philosophical lyrics, sonic experimentation, extended compositions, and more...
Genres: International Rock, Progressive Rock
Also download other albums from Pink Floyd