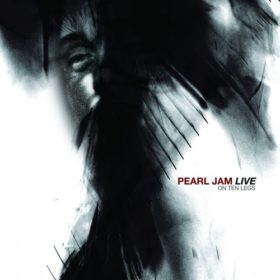 Pearl Jam – Live On Ten Legs (2011)
Tracks
Description
Artist
To listen to a song, click the "Play" button.
Arms Aloft
World Wide Suicide
Animal
Got Some
State Of Love And Trust
I Am Mine
Unthought Known
Rearview Mirror
The Fixer
Nothing As It Seems
In Hiding
Just Breathe
Jeremy
Public Image
Spin The Black Circle
Porch
Alive
Yellow Ledbetter
Live On Ten Legs is a live album by American rock band Pearl Jam released on January 17, 2011. Composed of songs recorded during the band's 2003–2010 world tours, it is a companion piece to their 1998 live album, Live on Two Legs. All songs were remixed by longtime Pearl Jam engineer, Brett Eliason.
The album packaging is similar to the previous official live compilation. Photos of the band in concert are featured on the inside of the cover. A gatefold opens to reveal photos of the road crew and full colour reproductions of various concert posters from the band's tours of this era.
Live On Ten Legs earned generally positive reviews. "Inevitably, it's the old favourites that elicit the biggest cheers and carry greatest power…"wrote Paul Elliott in Classic Rock. "But this is an album full of great songs and great performances, confirming Vedder as one of the finest singers of his generation, and Pearl Jam as one of the truly iconic rock 'n' roll bands."
The album has been described as "well-produced", but at the same time lacking a real "live feel": the album has been described as having a very studio-like sound.
Pearl Jam is an American rock band formed in Seattle, Washington, in 1990. Since its inception, the band's line-up has consisted of Eddie Vedder (lead vocals), Mike McCready (lead guitar), Stone Gossard (rhythm guitar) and Jeff Ament (bass). The more...
Genres: Alternative Rock, International Rock
Also download other albums from Pearl Jam