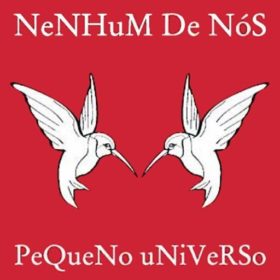 Nenhum De Nós – Pequeno Universo (2003)
Tracks
Description
Artist
To listen to a song, click the "Play" button.
Confiança
Dança do Tempo
Feedback
Cada Lugar
Simples
Divididos
Raquel
Esperanças Perdidas
Incrível
Monstrinhos
Igual a Você
Eu e Você Sempre
Sempre Sim
Pequeno Universo is the 11th album by the band from the state of Rio Grande do Sul. The 1st after the resounding success of their second acoustic, released in 2003. Produced by Sacha Amback, the album hit the stores in winter 2005 and quickly received the nickname "The best album of Nenhum de Nós".
Nenhum de Nós (Portuguese for None of Us) is a Brazilian pop rock band formed in 1986 in Porto Alegre, Rio Grande do Sul. The band primarily consists of former Engenheiros do Hawaii member Carlos Stein (guitar), João Vicenti (keyboards), Sady more...
Genres: Brazilian Rock, Pop Rock
Also download other albums from Nenhum de Nós