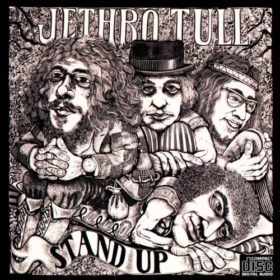 Jethro Tull – Stand Up (1969)
Tracks
Description
Artist
To listen to a song, click the "Play" button.
A New Day Yesterday
Jeffrey Goes to Leicester Square
Bouree
Back to the Family
Look Into the Sun
Nothing Is Easy
Fat Man
We Used to Know
Reasons for Waiting
For a Thousand Mothers
Stand Up is the second studio album by the British rock band Jethro Tull, released in 1969. Before recordings for the album began, the band's original guitarist Mick Abrahams resigned because of musical differences with Ian Anderson; Abrahams wanted to stay with the blues rock sound of their 1968 debut, This Was, while Anderson wished to add other musical influences such as folk rock. He was replaced by guitarist Martin Barre, who appeared on every Jethro Tull album from this point onwards.
Stand Up represents the first album project on which Anderson was in full control of the music and lyrics. The result was an eclectic album with various styles appearing in its songs, yet an album which remained somewhat in the blues rock mould, which would be the last such album from Jethro Tull.
The album quickly went to No. 1 on the UK charts, while the non-album single "Living in the Past" peaked at No. 3.
Jethro Tull are a British rock band formed in Blackpool, Lancashire in 1967. Initially playing blues rock, the band developed its sound to incorporate elements of hard rock to forge a progressive rock signature. The band is led by more...
Genres: International Rock, Progressive Rock
Also download other albums from Jethro Tull