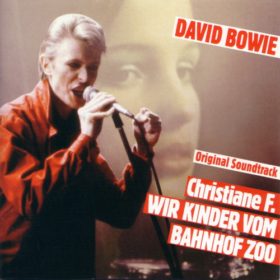 David Bowie – Christiane F (1981)
Tracks
Description
Artist
To listen to a song, click the "Play" button.
V-2 Schneider
TVC-15
Heroes / Helden
Boys Keep Swinging
Sense Of Doubt
Station To Station
Look Back In Anger
Stay
Warszawa
Christiane F. – Wir Kinder vom Bahnhof Zoo is a soundtrack album by David Bowie, released on LP in 1981 by RCA Victor (and re-issued on CD by EMI in 2001), for the movie about Christiane F. The German title of the film, Wir Kinder vom Bahnhof Zoo, means "We children of Zoo Station", referring to the railway station in Berlin, Germany.
David Robert Jones (8 January 1947 – 10 January 2016), known professionally as David Bowie, was an English singer, songwriter and actor. He was a leading figure in popular music for over five decades, acclaimed by critics and other musicians for more...
Genres: Art Rock, International Rock
Also download other albums from David Bowie