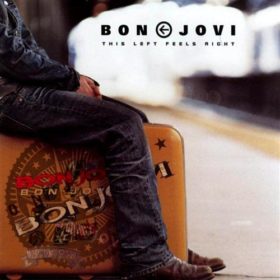 Bon Jovi – This Left Feels Right (2003)
Tracks
Description
Artist
To listen to a song, click the "Play" button.
Wanted Dead or Alive
Livin' on a Prayer
Bad Medicine
It's My Life
Lay Your Hands on Me
You Give Love a Bad Name
Bed Of Roses
Everyday
Born To Be My Baby
Keep the Faith
I'll Be There For You
Always
The Distance
This Left Feels Right is an album featuring new versions of Bon Jovi songs from previous albums. It was released in 2003 and charted at No. 14 on The Billboard 200. It's a "trip down memory lane" as Jon Bon Jovi described the album. It features revamped versions of many of Bon Jovi's biggest hits, often in a more somber style. Many of the 80's hard hitting chart-rockers are presented in a different light as soulful ballads. This Left Feels Right has sold 549,727 copies in the US (July 2007).
The 2003 rendition of "Wanted Dead or Alive" was released as a single and also had a promotional video produced, which had the same format as "Wanted Dead or Alive (Live version)", which was a single from the One Wild Night Live 1985–2001 album.
For the Russian and CIS release Olivia d'Abo's part in Livin' on a Prayer was recorded by Russian superstar Alsou in Bon Jovi's studio. This version was played on Russian radio stations to promote the release and got great reviews by Bon Jovi fans, but Olivia's version appeared on the Russian CD due to Universal Music Russia's decision.
Bon Jovi is an American rock band from Sayreville, New Jersey. Formed in 1983, Bon Jovi consists of lead singer and namesake Jon Bon Jovi, pianist and keyboardist David Bryan, drummer Tico Torres, lead guitarist Phil X, and bassist Hugh more...
Genres: Hard Rock, International Rock
Also download other albums from Bon Jovi