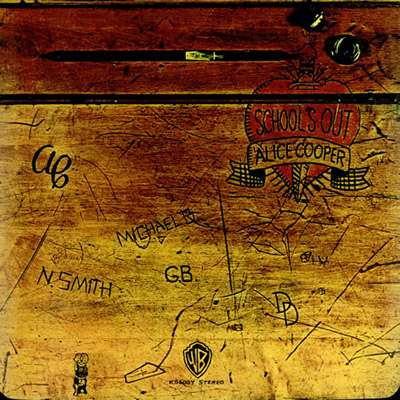 Alice Cooper – School's Out (1972)
Tracks
Description
Artist
To listen to a song, click the "Play" button.
School's Out
Luney Tune
Gutter Cat Vs. The Jets
Street Fight
Blue Turk
My Stars
Public Animal
9
Alma Mater
Grande Finale
School's Out is the fifth studio album by American rock band Alice Cooper, released in 1972. The album's title track has remained a staple song in Alice Cooper's live set list and receives regular airplay on many "Classic Rock"radio stations.
School's Out reached No. 2 on the US Billboard 200 chart and No. 1 on the Canadian RPM 100 Top Albums chart, holding the top position for four weeks. The single "School's Out"reached No. 7 on the Billboard Hot 100, No. 3 on the Canadian RPM Top Singles Chart and went to No. 1 in the UK Singles Chart.
Alice Cooper (born Vincent Damon Furnier; February 4, 1948) is an American singer, songwriter, and actor whose career spans over five decades. With his distinctive raspy voice and a stage show that features guillotines, electric chairs, fake blood, more...
Genres: Hard Rock, International Rock
Also download other albums from Alice Cooper