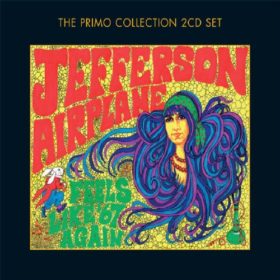 Jefferson Airplane – Feels Like '67 Again (2007)
Para escutar uma música, clique no seu nome.
White Rabbit
Plastic Fantastic Lover
It's No Secret
High Flyin' Bird
Get Together
Jorma's Blues
Runnin' 'Round This World
She Has Funny Cars
You're bringing me down
Other Side Of This Life
Tobacco Road
My Best Friend
3/5 Of A Mile In Ten Seconds
Thing
Don't Let Me Down
Today
Don't Slip Away
Somebody to Love
Feels Like '67 Again é um álbum ao vivo da banda de rock Jefferson Airplane, gravado durante o show de Winterland em 1967.
Jefferson Airplane foi uma banda estado-unidense de rock psicadélico formada em São Francisco no verão de 1965, uma pioneira do movimento musical psicodélico. Várias encarnações posteriores do grupo original continuaram a tocar sob nomes mais...
Gêneros: Rock Internacional, Rock Progressivo