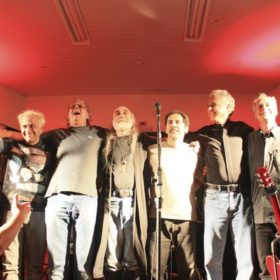 Terreno Baldio
Terreno Baldio is a progressive Brazilian rock band formed in the early 1970s and is one of the most important progressive rock bands nationally. The musicians who are part of the group are: João Kurk (Fusa) - vocal, flute and percussion, Mozart
more...
Terreno Baldio is a progressive Brazilian rock band formed in the early 1970s and is one of the most important progressive rock bands nationally. The musicians who are part of the group are: João Kurk (Fusa) – vocal, flute and percussion, Mozart Mello – guitar, Roberto Lazzarini – keyboards, João Ascenção – bass and Joaquim Correa – drums and percussion.
Considered by many as the Brazilian Gentle Giant, the group debuted in 1975 with "Terreno Baldio", which leaves the Pirata label in a print run of 3000 copies. Terreno Baldio release yet another album, "Além das Lendas Brasileiras", before debuting in 1978. However, it would reunite in 1993 to re-record the first LP, this time in English, for a re-release by Progressive Rock Worldwide (with right to extras). In other words, it's really a third album from the group.
The band was in 1st place in the topic "Better Re-release" from Rock Progressivo Brasil.
Terreno Baldio discography for download