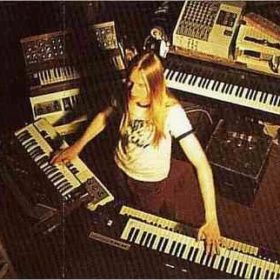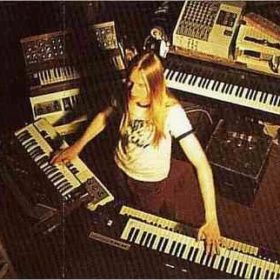 Rick Wakeman
Richard Christopher "Rick" Wakeman (born 18 May 1949) is an English keyboardist, songwriter, television and radio presenter, and author. He is best known for being in the progressive rock band Yes across five tenures between 1971 and 2004 and for his solo albums released in the 1970s. He is a current member of Yes Featuring Jon Anderson, Trevor Rabin and Rick Wakeman.
Born and raised in West London, Wakeman intended to be a concert pianist but quit his studies at the Royal College of Music in 1969 to become a full-time session musician. His early sessions included playing on "Space Oddity", among others, for David Bowie and songs by Junior's Eyes, T. Rex, Elton John, and Cat Stevens. Wakeman became a member of Strawbs in 1970 before joining Yes a year later, playing on some of their most successful albums across two stints until 1980. Wakeman began his solo career in 1973; his most successful albums are his first three: The Six Wives of Henry VIII (1973), Journey to the Centre of the Earth (1974), and The Myths and Legends of King Arthur and the Knights of the Round Table (1975), all concept albums. He formed his rock band, The English Rock Ensemble, in 1974, with which he continues to perform, and scored his first film, Lisztomania (1975).
Wakeman pursued solo projects in the 1980s that varied in levels of success; his most successful album was 1984, released in 1981, which was followed by his minor pop hit single, "Glory Boys", from Silent Nights (1985). He hosted the television show Gastank, and recorded his first of several New-age, ambient, and Christian music albums with Country Airs (1986) and The Gospels (1987), respectively. From 1988 to 1990, he was a member of Anderson Bruford Wakeman Howe which led to his third Yes stint until 1992. He returned twice more between 1995 and 2004, during which he completed several more solo projects and tours, including his most significant of the decade, Return to the Centre of the Earth (1999). Wakeman continues to record albums and perform concerts worldwide in various capacities; his most recent album is Piano Portraits (2017).
Wakeman's discography includes over 90 solo albums that range from several musical styles. He has made many television and radio appearances; in recent years he became known for his contributions to the BBC comedy series Grumpy Old Men, Watchdog and his radio show on Planet Rock that aired from 2005 to 2010. Wakeman has written three books; an autobiography and two memoirs. In 2017, Wakeman was inducted into the Rock and Roll Hall of Fame as a member of Yes.
Genres: International Rock, Hard Rock, Progressive Rock, Classic Rock, Alternative Rock, Progressive Metal
Rick Wakeman albuns for download