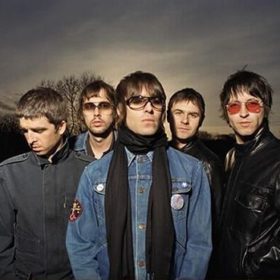 Oasis
Oasis were an English rock band formed in Manchester in 1991. Developed from an earlier group, The Rain, the band originally consisted of Liam Gallagher (vocals and tambourine), Paul "Bonehead" Arthurs (guitar), Paul "Guigsy" McGuigan (bass guitar), and Tony McCarroll (drums, percussion). They were joined later that year by Liam's older brother Noel Gallagher (lead guitar and vocals) as a fifth member, becoming the band's settled line-up until April 1995.
Oasis signed to independent record label Creation Records in 1993 and released their record-setting debut album Definitely Maybe (1994). The following year the band recorded (What's the Story) Morning Glory? (1995) with drummer Alan White, in the midst of a chart rivalry with Britpop peers Blur. Along with Suede, Pulp, Blur and others, Oasis came to be regarded as one of the major bands of the Britpop movement, and in many respects, eclipsed their peers in terms of commercial success and their influence on British culture, with What's the Story? going on to sell 22 million copies worldwide and the Gallagher brothers being featured regularly in tabloid newspapers for their sibling disputes and wild lifestyles. In 1996, Oasis performed two nights at Knebworth for an audience of 125,000 each night, at the time the largest outdoor concerts in UK history (2.5 million people applied for tickets, to this day the highest demand for a show in British history). In 1997 Oasis released their third album, Be Here Now (1997), and although it was the fastest-selling album in UK chart history, the album's popularity tapered off quickly, but not before selling 8 million copies.
McGuigan and Arthurs left Oasis in 1999 as the band released Standing on the Shoulder of Giants (2000). After their departures, they were replaced by former Heavy Stereo guitarist/frontman Gem Archer and former Ride guitarist/frontman Andy Bell. Their fifth studio album Heathen Chemistry was released in 2002. In 2004 drummer Alan White left the band leaving them as a four-piece with addition of the Who drummer Zak Starkey as recording and touring unofficial fifth member and found renewed success and popularity with Don't Believe the Truth (2005). Following the recording of the band's seventh album Dig Out Your Soul in May 2008, after being made official member during sessions, Starkey departed the band and with Chris Sharrock as touring member, Oasis did their last tour as a collective band. During the tour the brothers' increasingly deteriorating relationship ultimately led to Noel Gallagher announcing in August 2009 that he would be leaving the band after a backstage altercation with Liam before a festival appearance. The band, comprising the remaining members of Oasis and led by Liam Gallagher, decided to continue working together under the name Beady Eye until breaking up in 2014, while Noel went on to form his solo project Noel Gallagher's High Flying Birds.
As well as singing in Mancunian accents and references to British culture in their lyrics, Oasis were influenced by British guitar bands from the past. They have had eight UK number-one singles and eight UK number-one albums, and won seventeen NME Awards, nine Q Awards, four MTV Europe Music Awards and six Brit Awards, including one in 2007 for Outstanding Contribution to Music and one for the Best Album of the Last 30 Years as voted by BBC Radio 2 listeners; they have been nominated for three Grammy Awards. As of 2009, Oasis have sold over 85 million records worldwide. The band were listed in the Guinness World Records book in 2010 for "Longest Top 10 UK Chart Run by a Group" after an unprecedented run of 22 top 10 hits in the UK. The band also holds the Guinness World Record for being the most successful act in the UK between the years 1995 and 2005, spending 765 weeks in the top 75 singles and albums charts.
Download Albums