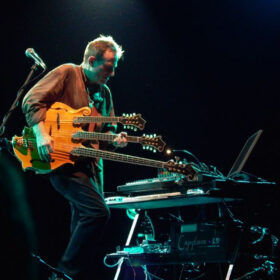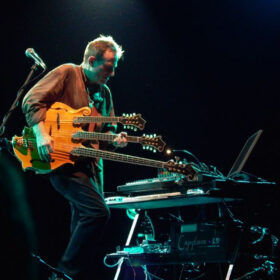 John Paul Jones
John Richard Baldwin (born 3 January 1946), better known by his stage name John Paul Jones, is an English musician and record producer who was the bassist and keyboardist for the rock band Led Zeppelin. Prior to forming the band with Jimmy Page in 1968, he was a session musician and arranger. After the death of drummer John Bonham in 1980, Led Zeppelin disbanded, and Jones developed a solo career. He has collaborated with musicians across a variety of genres, including Josh Homme and Dave Grohl with the supergroup Them Crooked Vultures.
John Richard Baldwin was born in Sidcup, Kent, England on 3 January 1946. He started playing piano at age six, learning from his father, Joe Baldwin, a pianist and arranger for big bands in the 1940s and 1950s, notably with Ambrose and his Orchestra. His mother was also in the music business which allowed the family to often perform together touring around England as a vaudeville comedy act. His influences ranged from the blues of Big Bill Broonzy, the jazz of Charles Mingus, to the classical piano of Sergei Rachmaninoff.
Because his parents often toured, Baldwin was sent to boarding school at a young age. He was a student at Christ's College, Blackheath, London where he studied music formally. At the age of 14, Baldwin became choirmaster and organist at a local church and during that year, he also bought his first bass guitar, a Dallas Tuxedo solid body electric followed by multiple basses in which he part exchanged until he finally bought his 1962 Fender Jazz Bass which he used until 1976. The fluid playing of Chicago musician Phil Upchurch on his You Can't Sit Down LP, which includes a memorable bass solo, is cited by Jones as being his inspiration to take up the instrument.
Genres: International Rock, Hard Rock, Progressive Rock, Blues Rock, Instrumental Rock
John Paul Jones albuns for download