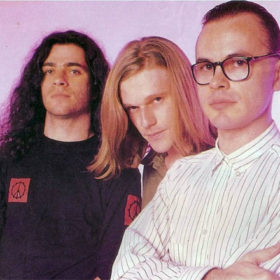 Engenheiros do Hawaii
Engenheiros do Hawaii ("Engineers from/of Hawaii" in English) was a Brazilian rock band formed in Porto Alegre in 1985 that achieved great popularity with their ironic, critically charged songs with heavily semantic lyrics often relying on
more...
Engenheiros do Hawaii ("Engineers from/of Hawaii" in English) was a Brazilian rock band formed in Porto Alegre in 1985 that achieved great popularity with their ironic, critically charged songs with heavily semantic lyrics often relying on wordplays. The vocalist and bassist Humberto Gessinger is the last original member still in the band today.
Three architecture college students from UFRGS, Humberto Gessinger (vocal and guitar), Carlos Maltz (drums) and Marcelo Pitz (bass) decided to form a band for a show in a college festival. That performance brought invitations to do new shows and after some gigs in alternative venues in Porto Alegre and a series along Rio Grande do Sul's country region, the Engenheiros do Hawaii recorded their first solo album: Longe Demais das Capitais (Too Far Away from the Capitals) in 1986 (the first recording was a compilation with several local bands, called "Rock Grande do Sul" in 1986). The record's musical direction pointed towards a more New Wave sound, very close to the sound of bands like The Police and Paralamas do Sucesso. It includes the songs "Toda Forma de Poder" (Every Form of Power) and "Sopa de Letrinhas" (Alphabet Soup).
Before they got around to recording the second album, Marcelo Pitz left the band. In his place was recruited the guitarist Augusto Licks, who had worked with Nei Lisboa, a known local musician. With Gessinger assuming the bass the Engenheiros released the album A Revolta dos Dândis (Rise of the Dandies) in 1987. The band changed their sound, turning to a more Bob Dylan-ish, folk mood, with critical lyrics with literature quotes from philosophers such as Albert Camus and Jean-Paul Sartre. It brought the hits "Infinita Highway" (Infinite Highway), "Terra de Gigantes" (Giants' Land), "Refrão de Bolero" (Bolero Chorus) and the title track, divided in two parts. By this time they had begun to play gigs to greater audiences in the center of the country, like the Alternativa Nativa festival, between 14 and 17 June 1987.
From this date, the Engenheiros filled halls and stadia all over Brazil. The following album, Ouça o Que eu Digo: Não Ouça Ninguém (Listen to Me: Don't Listen to Anyone) of 1988 can be seen as a natural succession from the previous one, due both to the album coverwork and the theme and style of its songs. Well-known songs from this album include "Somos Quem Podemos Ser" (We Are Who We Can Be), "Nunca Se Sabe" (You Never Know), "Tribos & Tribunais" (Tribes & Tribunals) and "Variações Sobre o Mesmo Tema" (Variations Over The Same Theme), the last one being a tribute to Pink Floyd, with its progressive mood and being split in three parts. This album also marked the time that the Engenheiros relocated from the city of Porto Alegre to Rio de Janeiro. With the new formation settled, the Engenheiros released Alívio Imediato (Immediate Relief), of 1989, their fourth album and the first live one. It showcased a retrospective of their main songs and the new ideas leading to a more electronic sound, present in the title track and in the song "Nau à Deriva" (Carrack Out Of Route).
Engenheiros do Hawaii discography for download