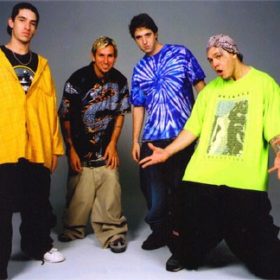 Charlie Brown JR
Charlie Brown Jr. was a Brazilian rock band, from the city of Santos, São Paulo, whose main influences were Sublime, Bad Brains, 311, Suicidal Tendencies, Rage Against the Machine, Red Hot Chili Peppers. When Chorão came
more...
Charlie Brown Jr. was a Brazilian rock band, from the city of Santos, São Paulo, whose main influences were Sublime, Bad Brains, 311, Suicidal Tendencies, Rage Against the Machine, Red Hot Chili Peppers.
When Chorão came to Santos at seventeen (after a difficult and somewhat traumatic childhood) he already had a strong interest in skateboarding and rock music. From time to time he would stand in for a singer of a local rock band when the guy had to go to the bathroom during a show. A musician in another saw Chorão performing during these bathroom breaks and invited him to join his band. When the band's bass player quit, Chorão found Champignon, who was then twelve. Later on, Chorão decided to start his own band, and invited Champignon and Pelado (Chorão's friend from another local band), and then Marcão and Thiago (a 5th member). The band would continue to have shows in the city without an official name until Chorão crashed his car into a coconut shack that was named "Charlie Brown". And the "Jr", because they are children of new rock generations with Red Hot Chili Peppers and Raimundos .
Producer Rick Bonadio, whom Champignon knew, invited them to make a demo tape and he liked what he heard, and they were soon picked up by Virgin Records. In 1997, they released the debut album Transpiração Contínua Prolongada ("Continuous, Long Transpiration", a reference to hard work). Well received by the public, it remains as their biggest hit to date, and CBJ won a VMB (the Brazilian VMAs) in the Breakthrough Artist category. In April 2005 members Champignon, Marcão, and Pelado decided to leave the band, alleging 'artistic differences'. They were soon replaced by Heitor Vilela Gomes (currently on CPM 22) on bass, Pingüim on drums and beat box, and former band member Thiago Castanho, who returned to play guitar. This new Charlie Brown Jr. formation is toured throughout Brazil and around some cities in the United States in July. On March 6, 2013, Chorão, lead vocals was found dead in his apartment. His driver found him unconscious and immediately called for an ambulance. Once it arrived, paramedics pronounced him dead at the scene. The cause of death was reported as an overdose of cocaine. Six months later, another member of the group, Champignon, was found dead in his apartment. In September 9, he committed suicide, with a shot in his mouth.
Charlie Brown JR discography for download