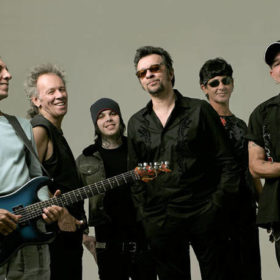 Camisa de Vênus
Camisa de Vênus (the old-fashioned Portuguese term for "condom") was a Brazilian rock group from Bahia whose peak of popularity was in the mid 1980s. Former lead singer, Marcelo Nova would be the producer and partner of Raul Seixas in his
more...
Camisa de Vênus (the old-fashioned Portuguese term for "condom") was a Brazilian rock group from Bahia whose peak of popularity was in the mid 1980s. Former lead singer, Marcelo Nova would be the producer and partner of Raul Seixas in his last years. The band has made several comebacks for short tours but is now defunct.
Camisa de Vênus was formed in 1982, in Salvador, Bahia with Marcelo Nova (vocals), Robério Santana (bass guitar), Karl Hummel(guitar) and Gucstavo Müllen (drums). After the band made it to the mainstream, Gustavo picked the lead guitar and a new drummer, Aldo Machado, was hired. The band debuted in 1982 with a single ("Controle Total"/"Meu Primo Zé") featuring most of the band's hallmarks.
The first, namesake was a punk rock album, but drew media attention, especially for its shock value, with the song "Bete Morreu" (Beth Died) becoming an underground hit, and the group was invited to play on TV. In July 2016, this album was elected by Rolling StoneBrasil as the 7th best Brazilian punk rock album. They soon released a second album, Batalhões de Estranhos (Platoons of Strangers), which brought them their first mainstream hit: "Eu Não Matei Joana D'Arc" (I Didn't Kill Joan of Arc).
Musically, Camisa de Vênus draws more heavily from early rockers (like Chuck Berry) than their contemporaries, especially for the guitar style. They also bring the rhythm section forward, like in their major hit, "Simca Chambord", featuring an interesting bass/guitar interplay with massive, nonstopping and thumping drums. Marcelo Nova's vocals are deep, rascant, full of improvisation and notoriously freestyle, showing more interest on interpreting the lyrics' content than on following thoroughly the melody. Camisa de Vênus has got a punk rock influence too.
The lyrics are very mature, since the beginning, showing political attitude and critique of customs. They can also be quite offensive and explicit. When performing live the group used to point them with bad words for their shock value in a time when censorship still existed. Their lyrics touched sensitive points and made a great deal of noise in the eighties, especially "Eu Não Matei Joana D'Arc" (I Didn't Kill Joan of Arc), for its implicit allusions to free love and lesbianism, "Sílvia", the first time ever the word "puta" (whore) was heard on a record, "Passamos por Isso" (We've Been Through That), which protests against the recording industry, and "Pronto Pro Suicídio" (Ready For Suicide), a nihilist protest.
Camisa de Vênus discography for download