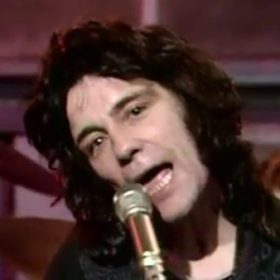 Alex Harvey
Alexander James Harvey (5 February 1935 – 4 February 1982) was a Scottish rock and blues musician. Although his career spanned almost three decades, he is best remembered as the frontman of The Sensational Alex Harvey Band, with whom he built a
more...
Alexander James Harvey (5 February 1935 – 4 February 1982) was a Scottish rock and blues musician. Although his career spanned almost three decades, he is best remembered as the frontman of The Sensational Alex Harvey Band, with whom he built a reputation as an exciting live performer during the era of glam rock in the 1970s.
In 1972, Harvey formed the Sensational Alex Harvey Band (often shortened to SAHB) with guitarist Zal Cleminson, bassist Chris Glen, and cousins Hugh and Ted McKenna on keyboards and drums respectively, all previous members of progressive rock act Tear Gas. SAHB produced a succession of highly regarded albums and tours throughout the 1970s. The band never achieved acclaim in the United States the way it did in Great Britain, but it had a cult following in certain US cities, especially Cleveland, where the group first played at the Agora Ballroom in December 1974. Thanks to airplay from WMMS, songs like "Next" and "The Faith Healer" became very popular. Cleveland remained a city where the Sensational Alex Harvey Band had a devoted following. However, they were unable to replicate that popularity in most other US cities.
The Sensational Alex Harvey Band had Top 40 hits in Britain with the single "Delilah", a cover version of the Tom Jones hit, which reached number seven in 1975, and also with "The Boston Tea Party" in June 1976. After Harvey left the group later that year, the other members continued as "SAHB… without Alex". Harvey re-joined the group for 1978's Rock Drill, but they disbanded shortly afterwards.
Harvey died of heart failure on 4 February 1982. Harvey was married twice, and had two sons, one from each marriage.
Alex Harvey discography for download