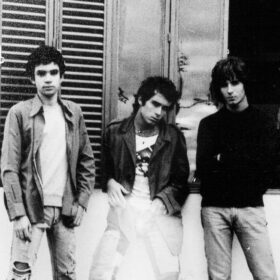 Aborto Elétrico
Aborto Elétrico (Electric abortion) was a Brazilian rock band that was active between 1978 and December of 1981 (it was made a farewell concert in March of 1982). According to an interview with MTV Brasil, Renato Russo himself reports when asked
more...
Aborto Elétrico (Electric abortion) was a Brazilian rock band that was active between 1978 and December of 1981 (it was made a farewell concert in March of 1982). According to an interview with MTV Brasil, Renato Russo himself reports when asked about the formation of Abortion Életrico:
"Aborto Elétrico was a band that André Predrik Pretorius (Andre Pretorius) would form with André Muller (Founder and Bassist of Banda Plebe Rude) and Antônio Felipe Villar de Lemos (Fê Lemos, Drummer of Banda Capital Inicial)". However, in its original formation it was with Renato Russo on bass and vocals, André Pretorius on guitar and Fê Lemos on drums.
The band was part of Turma da Colina (movement of bands from Brasília founded in the late 70s), along with bands such as Plebe Rude and Os Paralamas do Sucesso.
It was the milestone for the appearance of bands like Legião Urbana and Capital Inicial years later. It was at this time that several songs from the repertoire of Legião Urbana and Capital Inicial were created, such as "Que País É Este" (Legião Urbana) and "Veraneio Vascaína" (Capital Inicial).
Aborto Elétrico discography for download