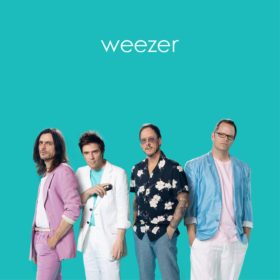 Weezer – Weezer Teal Album (2019)
Tracks
Weezer - Africa (starring Weird Al Yankovic)
Other videos of this song:

Weezer - Africa (Live from Dick Clark's New Year's Rockin' Eve)

Africa | Cover by Weezer | Lyrics

Weezer - Africa (Live Performance)

Toto - Africa (Official Music Video)

Weezer Africa Full HD
2
Everybody Wants To Rule The World
3
Sweet Dreams (Are Made Of This)
About the Album
Weezer, also known as the Teal Album, is the twelfth studio album, and fifth self-titled album, by the American rock band Weezer. It was released digitally on January 24, 2019 through Crush Music and Atlantic Records, with a retail release set for March 8. The album is composed of cover songs. It was announced and released on the same day as a surprise precursor to Weezer's thirteenth studio album, scheduled for March 2019. The album received mixed reviews, with some praising the self-aware frivolousness of the project, while others criticized the arrangements of the covers.
Genres: Alternative Rock, International Rock
Other Weezer discography albums for download