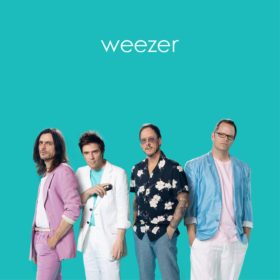 Weezer – Weezer Teal Album (2019)
Tracks
Description
Artist
To listen to a song, click the "Play" button.
Africa
Everybody Wants To Rule The World
Sweet Dreams (Are Made Of This)
Take On Me
Happy Together
Paranoid
Mr. Blue Sky
No Scrubs
Billie Jean
Stand By Me
Weezer, also known as the Teal Album, is the twelfth studio album, and fifth self-titled album, by the American rock band Weezer. It was released digitally on January 24, 2019 through Crush Music and Atlantic Records, with a retail release set for March 8. The album is composed of cover songs. It was announced and released on the same day as a surprise precursor to Weezer's thirteenth studio album, scheduled for March 2019. The album received mixed reviews, with some praising the self-aware frivolousness of the project, while others criticized the arrangements of the covers.
Weezer is an American rock band formed in Los Angeles, California in 1992. The band currently consists of Rivers Cuomo (lead vocals, lead guitar, keyboards), Patrick Wilson (drums), Brian Bell (guitar, backing vocals, keyboards), and Scott Shriner more...
Genres: Alternative Rock, International Rock
Also download other albums from Weezer