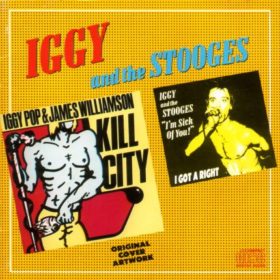 The Stooges – Kill City / Im Sick Of You (1987)
Tracks
Description
Artist
To listen to a song, click the "Play" button.
I Got A Right 3:24
Gimme Some Skin 2:46
I'm Sick Of You 6:52
Tight Pants 2:09
Scene Of The Crime 2:52
Kill City 2:21
Sell Your Love 3:38
Beyond The Law 3:03
I Got Nothin' 3:25
Johanna 3:06
Night Theme / Night Theme (Reprise) Backing Vocals – Gayna 2:01
Consolation Prizes 3:19
No Sense Of Crime 3:42
Lucky Monkeys 3:40
Master Charge – Written-By – Scott Thurston 4:35
Jesus Loves The Stooges 7:16
No description has been added yet...
The Stooges, also known as Iggy and the Stooges, were an American rock band formed in Ann Arbor, Michigan in 1967 by singer Iggy Pop, guitarist Ron Asheton, drummer Scott Asheton, and bassist Dave Alexander. Playing a raw, primitive style of rock more...
Genres: International Rock, Punk Rock
Also download other albums from The Stooges