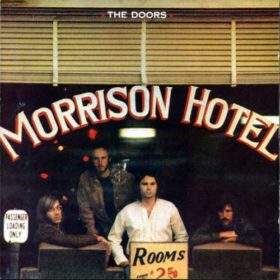 The Doors – Morrison Hotel (1970)
Tracks
The Doors - Roadhouse Blues
Other videos of this song:

The Doors - Roadhouse Blues, BEST version (live in N.Y. 1970) [music video]

Day of The Doors 2020 - Recap Video

The Doors and John Lee Hooker Roadhouse Blues Complete

The Doors - Roadhouse Blues

The Doors Roadhouse Blues Lyrics HD
About the Album
Morrison Hotel is the fifth studio album by American rock band the Doors. It was released by Elektra Records in February 1970. The album is divided into two separately titled sides, "Hard Rock Cafe" and "Morrison Hotel". It was largely seen as a return to form for the band.
Genres: Classic Rock, International Rock
Other The Doors discography albums for download