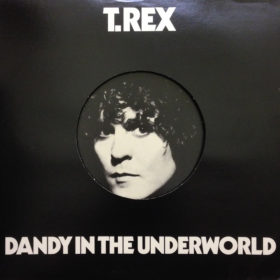 T.Rex – Dandy in the Underworld (1977)
Tracks
T.Rex - Dandy In The Underworld
Other videos of this song:

T. Rex - Dandy In The Underworld (Full Album) 1977

Marc Bolan, T. Rex - Dandy in the Underworld

Marc Bolan Dandy In The Underworld

Mix - T.Rex - Dandy In The Underworld

Marc Bolan TV documentary .Dandy in the Underworld. 1997.
1
Dandy In The Underworld
4
I'm A Fool For You, Girl
About the Album
Dandy in the Underworld is the twelfth and final studio album by English glam rock act T. Rex. It was released on 11 March 1977 by record label EMI. It reached No. 26 in the UK charts, the band's highest-charting album since 1974's Zinc Alloy and the Hidden Riders of Tomorrow. The title track was released as a single but failed to chart, though "I Love to Boogie"and "The Soul of My Suit"achieved chart placings in the UK.
After three commercially weak albums, Dandy in the Underworld was regarded by many T. Rex fans as a comeback for the band. However, it would prove to be the band's final album, as Marc Bolan died in a car crash in September 1977. The album was praised for the strength of the songwriting and Bolan's vocal performances.
An album of unreleased tracks and alternate versions of songs from the sessions that produced the album was released in 2006 called "Final Cuts". Most of these tracks were recorded at AIR Studios Oxford Street, with the addition of four tracks recorded at Decibel Studios in Stamford Hill in April 1977 after the release of Dandy in the Underworld. Seven of the twelve songs on "Final Cuts"were not released during Bolan's lifetime. It includes an alternate cut of the final T.Rex single 'Celebrate Summer' as well as 'Mellow Love', 'Write Me A Song', 'Hot George', 'Shy Boy'.
Genres: Glam Rock, International Rock
Other T.Rex discography albums for download