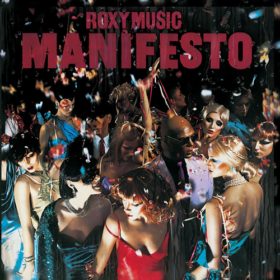 Roxy Music – Manifesto (1979)
Tracks
Description
Artist
To listen to a song, click the "Play" button.
Manifesto
Trash
Angel Eyes
Still Falls The Rain
Stronger Through The Years
Ain't That So
My Little Girl
Dance Away
Cry, Cry, Cry
Spin Me Round
Manifesto is the sixth studio album by the English rock band Roxy Music. It was released in March 1979 by E.G. in the UK, Polydor in Europe and by Atco Records in the US.
Following an almost four-year recording hiatus, Manifesto was Roxy Music's first studio album since 1975's Siren. The first single from Manifesto was "Trash", which barely made the UK top 40. However, the second single, the disco-tinged "Dance Away", returned the band to the top 3, beaten to no.1 for three weeks from 26 May 1979 by Blondie's "Sunday Girl". Regardless, it became one of the band's biggest hits and was also the 9th best-selling single in the UK in 1979. The song was also released as a 12″extended version (running at six and half minutes), a format that had started to become popular in the late 1970s. The third single from the album was a re-recorded version of "Angel Eyes", which was far more electronic and "disco"in nature than the power-pop album version. An extended 12″mix was also released. The single also made the UK Top 5 in August.
The album itself peaked at no. 7 in the UK. The cover design which featured a variety of mannequins (a concept also used for the covers of the singles from the album), was created by Bryan Ferry with fashion designer Antony Price and American Tv Actrees Hilary Thompson amongst others. The picture disc version of the album featured a version of the design in which the mannequins are unclothed. The cover's typography, as well as the album's title, were inspired by the first edition of Wyndham Lewis's literary magazine Blast.
Roxy Music were an English rock band formed in 1970 by Bryan Ferry, who became the band's lead vocalist and chief songwriter, and bassist Graham Simpson. Alongside Ferry, the other longtime members were Phil Manzanera (guitar), Andy Mackay more...
Genres: Art Rock, International Rock
Also download other albums from Roxy Music