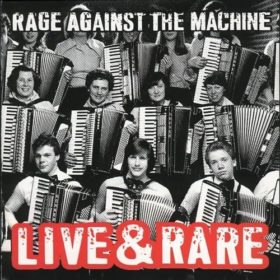 Rage Against The Machine – Live & Rare (1998)
Tracks
Description
Artist
To listen to a song, click the "Play" button.
Bullet In The Head (Live)
Settle For Nothing (Live)
Bombtrack (Live)
Take The Power Back (Live)
Freedom (Live)
Intro (Black Steel In The Hour Of Chaos) (Live)
Zapata's Blood (Live)
Without A Face (Live)
Hadda Be Playing On The Jukebox (Live)
Fuck Tha Police (Live)
Darkness
Clear The Lane
Ghost Of Tom Joad
Live & Rare is the first live album and the first compilation of material by the American rap metal band Rage Against the Machine, released only in Japan on June 30, 1998 by Sony Music Japan and only available overseas as an import. It comprises "official bootlegs" previously available on other singles as well as a pair of tracks from the band's 1991 demo.
Rage Against the Machine is an American rock band from Los Angeles, California. Formed in 1991, the group consists of vocalist Zack de la Rocha, bassist and backing vocalist Tim Commerford, guitarist Tom Morello, and drummer Brad Wilk. Rage Against more...
Genres: International Rock, Rapcore