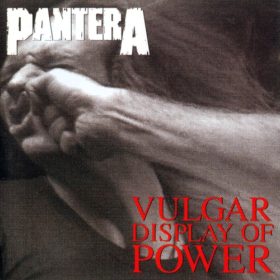 Pantera – Vulgar Display of Power (1992)
Tracks
Pantera - Mouth For War (Official Music Video)
Other videos of this song:

Pantera - Mouth For War + Lyrics (HD)

Pantera live, Mouth For War 1992-09-12 [PRO shot for TV]

Pantera - Walk (Official Music Video)

Pantera - Mouth For War

Avenged Sevenfold - Mouth For War (Pantera Cover) Ft. Vinnie Paul
7
No Good (Attack the Radical)
9
Regular People (Conceit)
About the Album
Vulgar Display of Power is the sixth studio album by the American heavy metal band Pantera, released on February 25, 1992 through Atco Records. One of the most influential heavy metal albums of the 1990s, Vulgar Display of Power has been described as "one of the defining albums of the groove-metal genre". Several songs from this release have become some of the band's best known, such as "Mouth for War", "A New Level", "Walk", "Fucking Hostile", "This Love", and "No Good (Attack the Radical)".
The band's 1990 major label debut, Cowboys from Hell, demonstrated a change in their musical direction, from their 1980s material influenced by bands like Van Halen and Kiss to a new similarity to bands like Slayer, Metallica and Black Sabbath.
Drummer Vinnie Paul said that Cowboys from Hell was really close to the "definitive Pantera sound". When Metallica released their self titled album in 1991, Pantera considered it a letdown to fans because they believed Metallica abandoned the thrash metal sound heard in previous albums. Pantera felt they had an opportunity and a gap to fill; they wanted to make the heaviest record of all time.
The riff for "Walk"is played in a time signature of 12/8. Darrell had played the riff during a soundcheck while Pantera was touring for Cowboys from Hell and the rest of the band loved it. Following this tour, the band returned home and found that some friends thought that rock stardom had gone to their heads. The lyrics for the song were inspired from these people's attitude toward the band; Anselmo's message to them was, "Take your fucking attitude and take a fuckin' walk with that. Keep that shit away from me."
Genres: Glam Rock, Heavy Metal, International Rock
Other Pantera discography albums for download