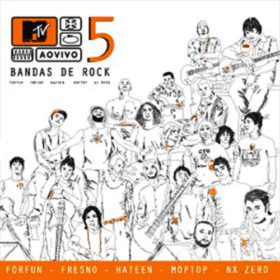 NX Zero – MTV Ao Vivo 5 Bandas de Rock (2007)
Tracks
Description
Artist
To listen to a song, click the "Play" button.
Quebre As Correntes
Contas Vencidas
Polo
Onde Está
Quem Já Perdeu Um Sonho Aqui?
Minha Melhor Invenção
Sozinho A Dois
1997
Hidropônica
Gruvi Quântico
Sigo O Som
Good Trip
Além De Mim
Mais E Mais
Algo Que Não Sou
Apenas Um Olhar
Uma Chance
Tempos Depois
2046
O Rock Acabou
No description has been added yet...
NX Zero (usually abbreviated as NX) is a Brazilian rock band formed in 2001 in São Paulo, the band consists Diego Ferrero (vocals), Leandro Rocha (guitar and backing vocals), Daniel Weksler (drums), Conrado Grandino (bass) and Filipe Ricardo more...
Genres: Alternative Rock, Brazilian Rock
Also download other albums from NX Zero