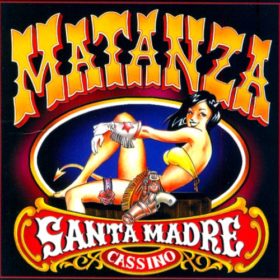 Matanza – Santa Madre Cassino (2001)
Tracks
Description
Artist
To listen to a song, click the "Play" button.
Ela Roubou Meu Caminhão
Mesa De Saloon
Eu Não Bebo Mais
E Tudo Vai Ficar Pior
Rio De Whisky
Quanto Mais Feio
Tombstone City
Ye Ole Bluegrass Assassinate
Santanico (Parte 1)
Santanico (Parte 2)
Mais Um Dia Por Aqui
Imbecil
As Melhores Putas Do Alabama
Santa Madre Cassino
Santa Madre Cassino is the first studio album by the Brazilian band Matanza. It was considered "great"by the critic of the Punk Zone.
Matanza is a Brazilian rock band from Rio de Janeiro. Their music is a blend of hardcore punk, country and heavy metal, thus falling into a subgenre known as countrycore.Matanza was formed in 1996 by Jimmy London and Donida, with the idea of more...
Genres: Brazilian Rock, Hardcore
Also download other albums from Matanza