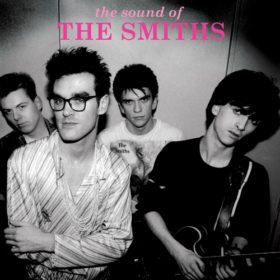 The Smiths – The Sound of The Smiths (2008)
Para escutar uma música, clique no botão "Play".
Hand In Glove
This Charming Man
What Difference Does It Make?
Still Ill
Heaven Knows I'm Miserable Now
William It Was Really Nothing
How Soon Is Now
Nowhere Faster
Shakespeare's Sister
Barbarism Begins At Home
That Joke Isn't Funny Anymore
The Headmaster Ritual
The Boy With The Thorn In His Side
Bigmouth Strikes Again
There Is A Light That Never Goes Out
Panic
Ask
You Just Haven't Earned It Yet Baby
Shoplifters Of The World Unite
Sheila Take A Bow
Girlfriend In A Coma
I Started Something I Couldn't Finish
Last Night I Dreamt That Somebody Loved Me
Jeane
Handsome Devil (Live)
This Charming Man (New York Vocal)
Wonderful Woman
Back To The Old House
These Things Take Time
Girl Afraid
Please, Please, Please Let Me Get What I Want
Stretch Out And Wait
Oscillate Wildly
Meat Is Murder (Live)
Asleep
Money Changes Everything
The Queen Is Dead
Vicar In A Tutu
Cemetery Gates
Half A Person
Sweet And Tender Hooligan
Pretty Girls Make Graves
Stop Me If You Think You've Heard This One Before
What's The World? (Live)
London (Live)
The Sound of The Smiths é uma compilação de Smiths lançada em 10 de novembro de 2008. Está disponível como edições de disco simples e duplo. Morrissey é creditado por ter cunhado o título da compilação, enquanto Johnny Marr estava envolvido na masterização do projeto. O primeiro material promocional do álbum originalmente intitulado "Hang the DJ: The Very Best of the Smiths", mas isso foi mudado para o lançamento final.
O álbum ficou em 21º lugar no UK Album Charts e no 98º no Billboard Album Charts. As fotos nas capas das edições originais e de luxo foram tiradas por Tom Sheehan.
The Smiths foi uma banda inglesa de rock alternativo formada em Manchester em 1982. Tendo como principal característica a parceria nas composições de Morrissey (vocal) e Johnny Marr (guitarras), a banda também incluía Andy Rourke no mais...
Gêneros: Rock Alternativo, Rock Internacional
Baixe também outros álbuns de The Smiths