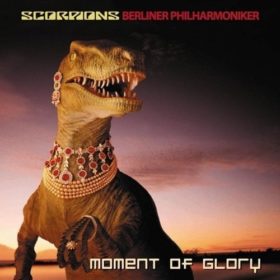 Scorpions – Moment of Glory (2000)
Músicas
Outros vídeos dessa música:

Rock You Like A Hurricane (2000)

Scorpions And Berliner Philharmoniker - Moment Of Glory

Scorpions Hurricane 2000 with Lyrics

Still Loving You - Scorpions with The Berlin Philharmonic Orchestra (2000) - (HQ

Scorpions - Hurricane (Moment Of Glory)
5
Crossfire (Instrumental)
6
Deadly Sting Suite (Instrumental)
Sobre o Álbum
Moment of Glory é um álbum gravado pela banda Scorpions junto com a Berliner Philarmoniker Orchestra, assim como outras grandes bandas de rock fizeram, como o Metallica, que gravou com a orquestra de São Francisco e Dream Theater, que gravou com a orquestra intitulada Octavarium.
O álbum foi lançado após o álbum Eye II Eye, e contou com uma nova versão de grandes sucessos da banda, como "Rock You Like a Hurricane", titulado "Hurricane 2000". Porém, predominam as já consagradas baladas como "Send me an angel", "Wind of Change"e "Still Loving You", além das inéditas "Moment of Glory"e o cover de "Here In My Heart.
O primeiro show feito a partir do álbum foi em Hanôver, no mesmo ano de lançamento regida por Christian Kolonovits na Preusag Arena.
Ainda naquele ano, durante a EXPO 2000 de Hanôver, a banda gravou a performance ao vivo ao lado da Berliner Philharmoniker que foi lançada como o DVD "Moment of Glory Live".
Gêneros: Hard Rock, Heavy Metal, Rock Internacional
Outros álbuns da discografia de Scorpions para download