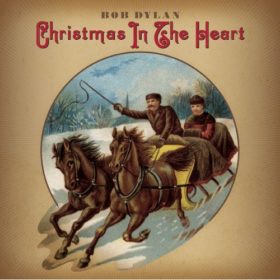 Bob Dylan – Christmas in the Heart (2009)
Músicas
Bob Dylan - Here Comes Santa Claus (Audio)
Outros vídeos dessa música:

Bob Dylan - Must Be Santa (Video)

Mix - Bob Dylan - Here Comes Santa Claus (Audio)

Here Comes Santa Claus

Bob Dylan - Have Yourself a Merry Little Christmas (Audio)

Bob Dylan - Twas The Night Before Christmas
2
Do You Hear What I Hear?
4
Hark the Herald Angels Sing
5
I'll Be Home for Christmas
8
O' Come All Ye Faithful (Adeste Fideles)
9
Have Yourself a Merry Little Christmas
15
O' Little Town of Bethlehem
Sobre o Álbum
Christmas in the Heart é o trigésimo quarto álbum de estúdio e primeiro álbum de Natal do cantor e compositor americano Bob Dylan, lançado em outubro de 2009 pela Columbia Records. O álbum é composto por uma coleção de hinos, cânticos e canções populares de Natal. Todos royalties de Dylan com a venda desse álbum deve beneficiar as instituições de caridade Feeding America nos EUA, Crisis no Reino Unido, e do Programa Alimentar Mundial.

Dylan disse que, apesar de judeu, nunca se sentiu deixado de fora do Natal durante sua infância em Minnesota. Em relação à popularidade da música de Natal, ele disse: "… é assim em todo o mundo e todo mundo pode se relacionar com ela em sua própria maneira".

O álbum estreou em Nº 1 na Billboard's Holliday e Folk Album Chart, Nº 10 na parada de álbuns de rock e Nº 23 nas paradas de álbuns em geral.
Gêneros: Folk Rock, Rock Internacional
Outros álbuns da discografia de Bob Dylan para download