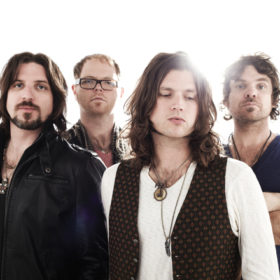 Rival Sons
Rival Sons is an American rock band from Long Beach, California. Rival Sons was formed in 2009 from the ashes of guitarist Scott Holiday's previous band Black Summer Crush (which featured Michael Miley on drums and Robin Everhart on bass). The
more...
Rival Sons is an American rock band from Long Beach, California. Rival Sons was formed in 2009 from the ashes of guitarist Scott Holiday's previous band Black Summer Crush (which featured Michael Miley on drums and Robin Everhart on bass). The band took shape when singer Jay Buchanan was persuaded to come in as vocalist on the re-recording of Before the Fire. The band currently features bassist Dave Beste after Robin Everhart left in August 2013. They are currently signed to Low Country Sound / Atlantic Records.
All Rival Sons members are from the Long Beach music scene. Prior to the formation of Rival Sons, Jay Buchanan recorded as a solo artist, as well as with his band Buchanan, which had previously released ''All Understood'' in 2004 and True Love EP in 2006. Scott Holiday's first success was in Human Lab who had recorded an album for Atlantic Records that was never released, then Black Summer Crush, (2005) where he was joined by Thomas Flowers (Oleander) and J. Harley Gilmore, (Ashes II Ashes, Weylon Krieger, Blu Cantrell) who later left the band in early 2006.
Gilmore was replaced by Michael Miley, a successful studio musician. Miley was also previously in Veruca Salt (2005) and the Carson Daly TV band, where he met Robin Everhart at Isaac Hayes' house when they both played a Hurricane Katrina benefit show.
Scott Holiday was searching for a new singer after the break up of Black Summer Crush and came upon Jay Buchanan on MySpace. Michael Miley had previously briefly played with Jay Buchanan in Buchanan.
Rival Sons was the first rock band Jay Buchanan had sung with and he was initially skeptical as a blues singer songwriter and looked at the band as a side project. He was surprised by the reaction and the success the band received with their debut self-released album Before the Fire (2009). Jack Rivera of Huffington Post declared them the "Rock Band to Watch" in November 2009. The band supported AC/DC, Alice Cooper and Kid Rock and performed on the track during a televised show of The Indianapolis 500.
They recorded a follow up EP (self released) in 2010, which caught the attention of Earache Records founder Digby Pearson and the band signed a deal in November 2010 that led to the recording of Pressure & Time in early 2011.
Rival Sons discography for download