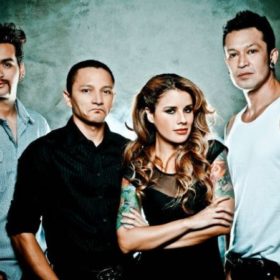 Madame Saatan
Madame Saatan is a Brazilian heavy metal band formed in 2003 in Belém do Pará. Her musical style combines heavy metal, thrash metal and hardcore punk with Brazilian regional elements (carimbó, guitarrada, lundu), as well as blues and pop. It was
more...
Madame Saatan is a Brazilian heavy metal band formed in 2003 in Belém do Pará. Her musical style combines heavy metal, thrash metal and hardcore punk with Brazilian regional elements (carimbó, guitarrada, lundu), as well as blues and pop. It was considered one of the most original bands that appeared in recent years in the Brazilian rock scene, by the public and specialized critics. He was also known for the most overwhelming shows of the independent festivals where he spent, among them: Conexão Vivo, MADA, Porão do Rock, Bananada, Se Rasgun, Varadouro, Belrock, Jambolada and Demo Sul.
It's been 8 years since the quartet joined to compose the musical track of the theater show "Ubu Rei – uma odisséia em bundalelê", assembly of the director Paulo Santana for the Alfred Jarry work "Ubu Rei". The show ended, the band continued. Sammliz (voice), Ed Guerreiro (guitar), Icaro Suzuki (bass) and Ivan Vanzar (drums) accumulate experience, prominence in the press and fans wherever they go. The strength of the heavy and Brazilian rock of the band took them to Globo (Altas Horas and Jornal Hoje), MTV, Multishow, Cultura, webtv programs and presentations in most Brazilian capitals, making their shows a chapter apart. Three years ago in São Paulo, Madame Saatan now launches her second album, Peixe Homem.
In October 2007, the band released the album "Madame Saatan" by a pool of labels (Ná Music, Tratore, Fósforo Records, Cubo Discos, Fora do Eixo) coordinated by the producer Roquenrou Beibe Entertainment. The album featured reviews in the country's top music companies and the 2008 Dynamite Independent Music Award as Best Metal Album.
Madame Saatan discography for download